These beautiful wedding signs will add a unique touch to your wedding ceremony and reception!

Write a message on a chalk board, have your quote crafted into a neon sign, or get a calligrapher to write a beautiful love quote on a glass wedding sign or rustic wooden board. Whether you're looking for wedding chair signs, signs for the guest book, or simply beautiful love quotes for your decor, we've got some great ideas for wedding signs here.
With so many details to manage, we thought it was high time to get into the nitty-gritty of all those signs you'll need for your wedding day. Signage may not seem all that important, but if you want to enjoy your day without stopping every ten seconds to answer questions like "When does cocktail hour start?" and "Is this the right wedding ballroom?" then signs might just be the most important decor items in your whole wedding day! Show your guests the way with this helpful wedding sign checklist and shop each sign below!
Big or small, all weddings need direction. Enter cute, quirky, and personalized signs, that share all that important info—like what time the bride will walk down the aisle, when guests should file in into the reception, and what's for dinner—that guests absolutely need to know. But the following signs aren't your average pieces of poster board. From chalkboard to wooden posts, these real wedding props are cute,
customized elements that majorly up the wow factor at a ceremony or reception.
While details like where to go and what time specific events begin are helpful, your signs don't have to be purely information. Enlist a calligrapher to craft a pretty welcome piece or to simply help show off your new monogram—after the Champagne starts flowing, it doesn't hurt to remind your attendees who's getting hitched. The creativity doesn't stop there. From quirky illustrations, glass art, neon signage, and salvaged driftwood stake, there are endless ways to make these pieces your own. In fact, they're the perfect opportunity to personalize your wedding with quotes, photos, and sentiments that mean the most to you and your new spouse.
All of the following signs are majorly creative, but we're particularly fond of one that encouraged guests' safety. A bride and groom set up a yellow neon sign, with pegs for wedding attendees to hang up their keys. The piece's text urged guests to take the shuttle back to their hotel after the reception instead of driving, which ultimately led to the hosts' peace of mind and a better time overall. Ready to find the prop that best fits your wedding's needs? Click through to discover more imagined, sweet, and helpful wedding signs.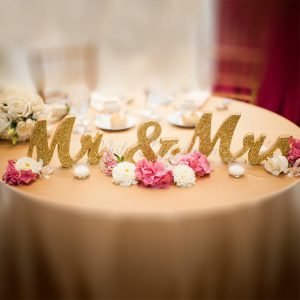 i-Signage has created numerous signages and signboards for our clients that meet the objectives of quality, cost, and impact. Check out our portfolio for some of the works we've done in this area. So if you have requirements for 3D signage, contact us today!