If you want to make an impact in a big way, 3D signage is the way to go.
OVERVIEW
3D signs give the impression of quality, up-market and exclusivity. Many companies, businesses and organisations in Singapore choose 3D letterings as their main identification, and the use of 3D letterings extends into the office interior such as reception area, stairwell, lift landings, and other communal areas.
Although it costs more, but between individual 3D letterings / logo and a simple flat signage, the difference in creating an impact and communicating quality of the former is truly unmatched.
This type of letterings is one of the most produced in the world. In this part of Asia, perhaps the most prominent and iconic can be found in Brisbane, Australia. The word "BRISBANE" has been created around 3000mm high and 1000mm thick at Southbank. Due to its striking impact created, this set of 3D letterings has seen countless streams of tourists and residents alike taking numerous photos and selfies using it as a scenic backdrop.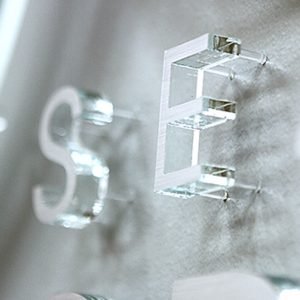 Look around you, and see if you can spot the use of 3D letterings as signs and signages, with some truly unique ones found in some within the arty/hipster joints around Haji Lane, Holland Village, Katong, the Dempsey area, as well as on top of buildings and skyscrapers.
CHOICE OF MATERIALS
3D signages, letterings, and signs can be constructed from one or a mix of the following materials:
Acrylic
Stainless Steel
Aluminium / Anodised Aluminium
Brass
Copper
Steel
Polystyrene
Timber
WHAT YOU SHOULD CONSIDER
When it comes to choosing what type of 3D letterings as signage depends on your objective, the intended size, location and most importantly, budget. We've experienced several occasions where the fabrication of 3D signs and letterings were either not budgeted for, or the budget was insufficient, and clients have to revert to print, or normal, flat signs.
The choice of materials used depends primarily on the size – for smaller 3D signs, acrylic will normally be sufficient but for larger ones, metals or a combination of materials will have to be used. For thinner 3D letterings, they can be cut directly from existing materials but for signs that require thicker depth, they'll have to be cut separately and then joined together to produce the required thickness. This will of course require more time to fabricate and craft, but the end result is almost always amazing.
Some retail malls and shopping centres dictate that all stores must have 3D letterings and signs to comply with the lease requirements, so do check with your estate management before making a decision. For companies with intricate logo details such as extremely fine lines, the use of 3D signs may have to be restricted to just the outer outline to avoid damaging or breaking the material used.
LIGHT THEM UP
To bring maximum impact and increased visibility, consider Illuminating the 3D letterings and signage to elevate your business image to the next level. Lighting effects can be done via back-lit, front-lit, side-lit, or a combination of these lightboxes, and are normally powered either by fluorescent tubes or LEDs these days. Neon signage – a popular choice a few decades ago – are now used sparingly due to the emergence of more energy saving alternatives.
3D lettering signage is a premium form of display signage, and is a fantastic way to express your image and make your business stand out from the rest. Coupled with stunning lighting effects, it certainly costs more, but is well worth the initial investment.
i-Signage has created numerous 3D signages and signboards for our clients that meet the objectives of quality, cost, and impact. Check out our portfolio for some of the works we've done in this area. So if you have requirements for 3D signage, contact us today!